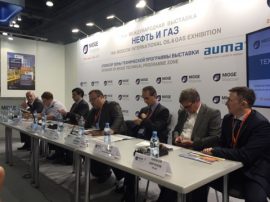 Modcon Systems participated in the Round Table Discussion on IIOT (Internet of Things) which took place at Mioge 2017 the international Oil&Gas conference in June 2017, Moscow. 
MIOGE is Russia's largest international exhibition of oil and gas equipment and technologies. The exhibition has been taking place since 1993.
Key facts:
652 exhibiting companies from 40 countries
5 national stands: Germany, Italy, China, Finland, the Czech Republic
Total number of visits: 25,424, including 18,920 professionals from 72 regions of Russia
Exhibitors are Russian and international manufacturers and suppliers of oil and gas equipment and technologies, as well as oil service companies interested in using effective tools to directly attract new customers from oil and gas producing regions of Russia and the CIS.
Exhibiting at MIOGE is an effective tool for increasing and expanding sales geographies for oil and gas equipment and technology.
At the exhibition, exhibitors get the opportunity, to present their products and hold face-to-face meetings with a large number of professionals sourcing oil and gas equipment for their businesses.